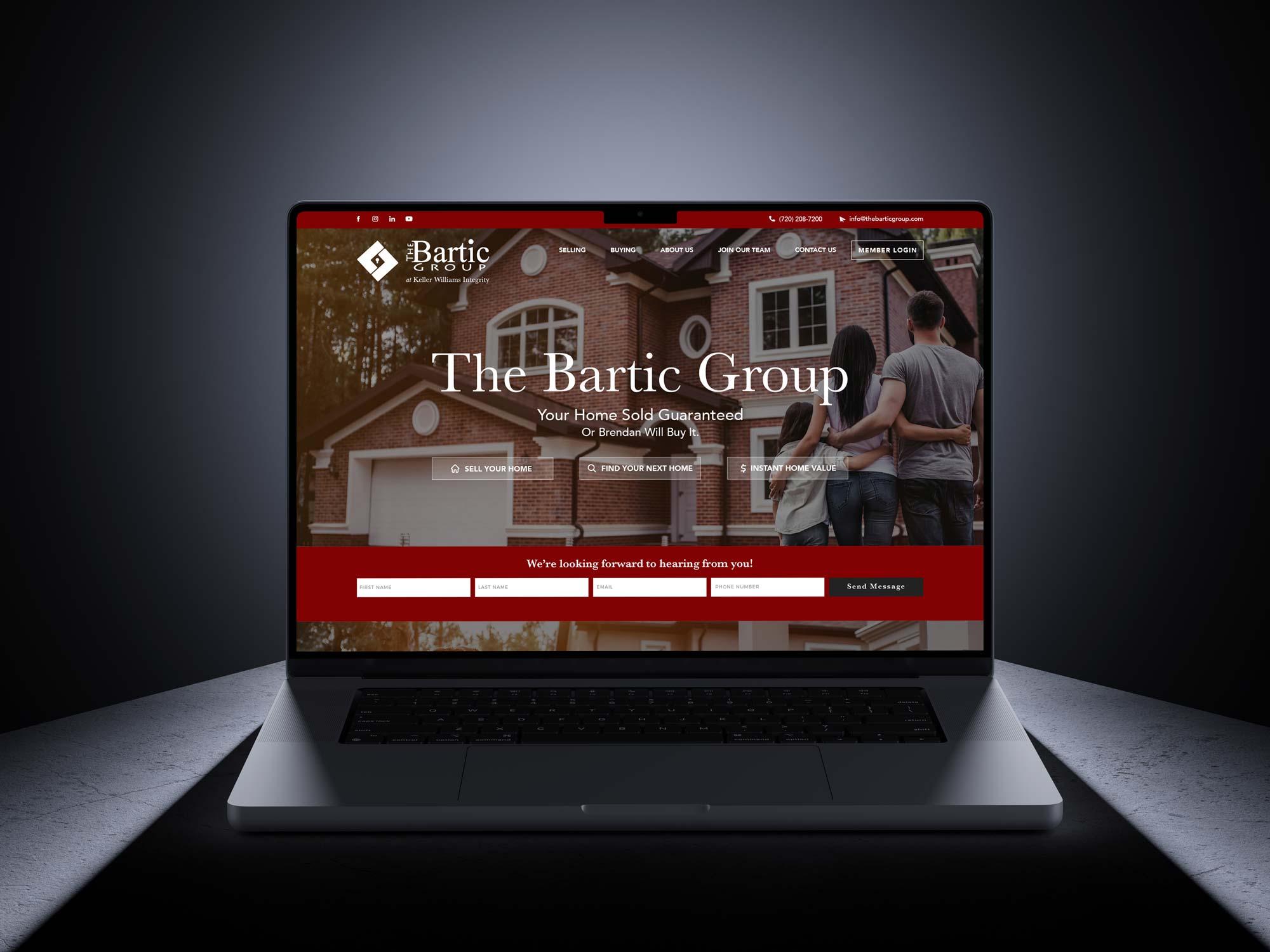 Real Estate | Colorado | Recruitment | Lead Generation
THE BARTIC GROUP
The Bartic Group is a full-service real estate agency specializing in assisting families, individuals and investors achieve their real estate goals. Their team has fostered a culture of partnership and redefined the business of real estate. What sets them apart from other agents is that they go the extra mile providing excellent service and communication. As a continuous trend setter in the industry, their real estate agency is ranked in the top 1% of all Keller Williams Teams internationally.
SERVICES
UI/UX Design
Lead Funnel Design
Graphic Design
Icon Design
Art Direction
SEOptimization
At Elite Home Partners, we recognize and value the trust our clients place in us and strive to always exceed expectations. Our service-based approach is best represented by our market expertise which has helped our clients buy and sell thousands of homes over the last 20 years. As a Veteran-Owned, Women Lead, Agent Operated business, community is everything. Elite Home Partners has been honored with community recognition and real estate awards for our industry expertise, sales records, philanthropic work and exclusive programs that we offer our clients to ensure a smooth transaction. With a reputation built on customer service, we promise to deliver an experience that will keep our clients coming back to work with us. We guarantee that we will provide you with excellent service, communication, honesty and protection of your best interests, always.
GOALS
WHAT IS IN A GOOD REAL ESTATE WEBSITE
–
A good real estate website should have several essential features and components to provide a comprehensive and user-friendly experience for visitors. Here are some key elements that a good real estate website should include:
Property Listings: The website should have a dedicated section to showcase property listings. Each listing should include detailed information about the property, such as location, size, price, number of bedrooms and bathrooms, amenities, and high-quality photographs.
Advanced Search Functionality: A robust search feature is crucial for users to filter and find properties based on specific criteria, such as location, price range, property type, and features. The search function should be intuitive, allowing users to refine their search results easily.
Mobile-Friendly Design: With the increasing use of mobile devices, it is essential for a real estate website to have a responsive design that adapts seamlessly to different screen sizes. This ensures that users can access and navigate the website effectively on smartphones and tablets.
Property Details and Descriptions: Each property listing should provide comprehensive details and descriptions that highlight the key features, amenities, nearby facilities, and any unique selling points. Clear and concise descriptions help potential buyers or renters understand the property better.
High-Quality Images and Virtual Tours: Visual content plays a crucial role in real estate websites. Including high-resolution images, virtual tours, and even 360-degree videos can give users a realistic view of the property and help them make informed decisions.


SOLUTIONS
New site with an emphasis on accessible and user-friendly information for the customer
–
Neighborhood and Location Information: Providing information about the neighborhood and surrounding areas is valuable for potential buyers or renters. This can include details about schools, parks, shopping centers, public transportation, and other amenities that may influence their decision.
Contact and Inquiry Forms: The website should have clear and easily accessible contact information, including phone numbers and email addresses. Additionally, incorporating inquiry forms or live chat options allows users to reach out to the real estate agency or agent directly for further information or to schedule viewings.
Testimonials and Reviews: Including testimonials or reviews from satisfied clients can help build trust and credibility. Positive feedback from previous customers can reassure potential buyers or renters about the quality of service they can expect from the real estate agency or agent.
Blog or News Section: A blog or news section can provide valuable content related to the real estate industry, including market trends, buying or renting tips, home improvement advice, and local community news. This demonstrates the website's expertise and keeps visitors engaged.
Social Media Integration: Integrating social media buttons or links allows visitors to easily connect with the real estate agency or agent on platforms like Facebook, Instagram, or LinkedIn. This enables them to stay updated with new property listings and engage with the agency's content.
Mortgage Calculator: Including a mortgage calculator can be helpful for potential buyers, allowing them to estimate monthly mortgage payments based on the property price, down payment, interest rates, and loan term. This tool provides a valuable resource for financial planning.
Privacy and Security Measures: A good real estate website should prioritize the security and privacy of user data. Implementing SSL certificates, secure payment gateways (if applicable), and clearly outlining the website's privacy policy helps build trust with visitors.
RESULTS
A brand new website, successfully launched
By incorporating these essential elements, a good real estate website can provide a user-friendly experience, help visitors find relevant properties, and showcase the expertise and professionalism of the real estate agency or agent.