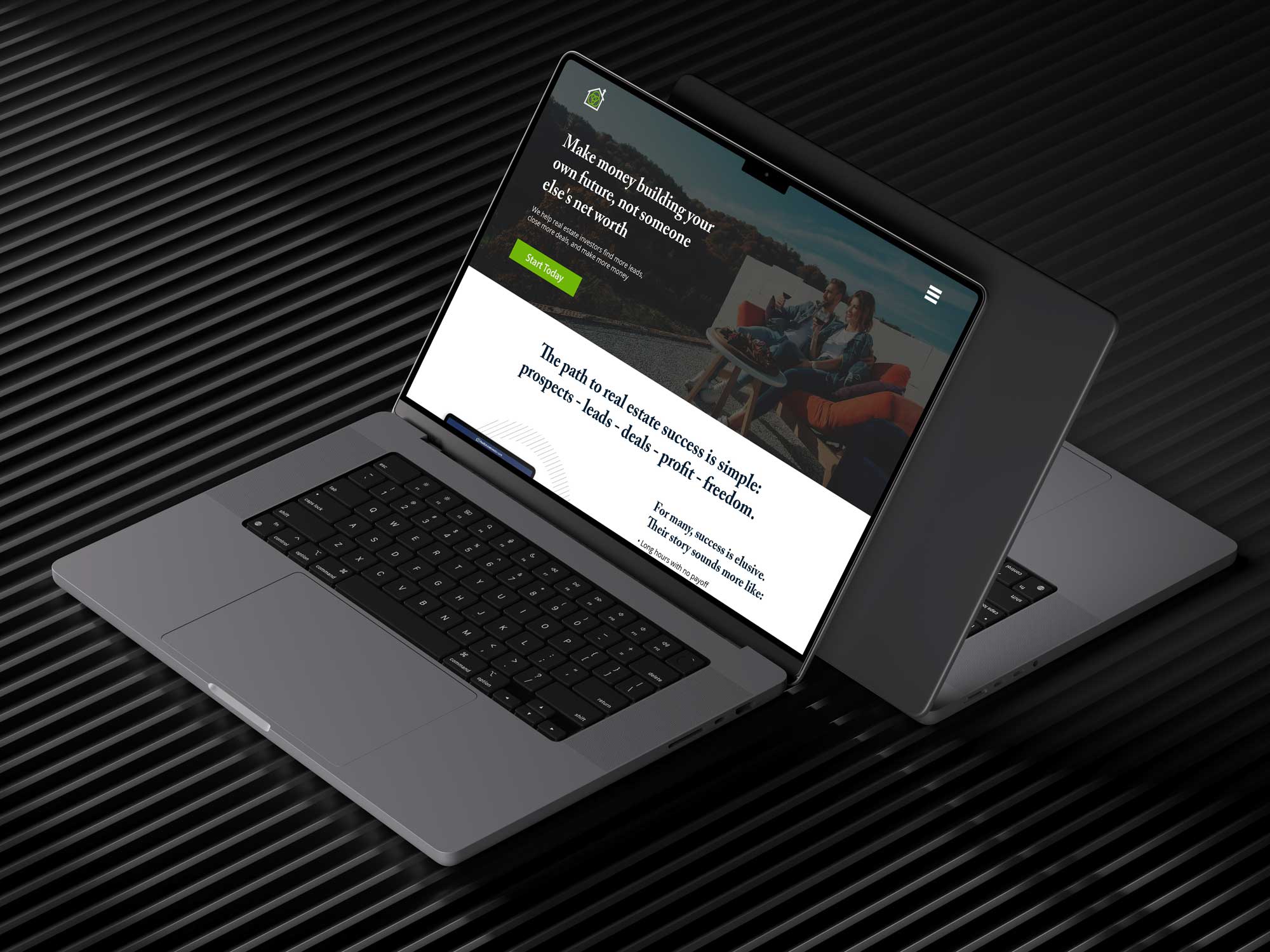 CRM | Lead Generation | Investment Services | Real Estate | California
REAL ESTATE INVESTOR
BRAIN CHILD OF VISIONARIES ROBERT SYFERT AND GARY BOOMERSHINE, THIS WAS A NEXT GENERATION, CRM PLATFORM WITH HYPER-INTUITIVE MARKETING AND AUTOMATIZATION TECHNOLOGY. 
SERVICES
UI/UX Design
Lead Funnel Design

CRM PLATFORM

AUTOMATION
"Too many real estate investors stay on the surface of their growth potential. Instead of achieving more than they thought possible, they get stuck in their business, revenue, and life. What I do comes from experience. As real estate investor myself, I know what it's like. That's why I only create resources that fuel massive growth. You want to reach the top, and I'll show you the fastest path there. I'm passionate about working with people to help them achieve financial freedom in both their business and personal life by using real estate as the vehicle to get them there." – GARY BOOMERSHINE
GOALS
Illustrate the benefits of a CRM made specifically for real estate investors.
–
Our task was to help visionaries and real estate slash investment superstars Robert Syfert And Gary Boomershine show the industry what it was missing. A fully customizable, personalized and automated CRM system designed specifically for real estate investors, agents and brokerages across the United States. 
Customized, automated follow-up integration, means a much more efficient and effortless lead management, which ultimately leads to more closed deals.
Effectively a marketing proposal for a one of a kind never before seen technology that had the potential to revolutionize the real estate investing space. 
Patent pending. 


SOLUTIONS
THE WEBSITE DETAILED EXACTLY HOW THIS TECH WAS GOING TO CHANGE THE WAY YOU DID BUSINESS.
–
The end result was a website that conveyed to any visitor the notion that 'we understand real estate, investing, transaction management, marketing, hiring, training and logistics takes a village. Luckily, we've got a bustling city of laser, focused, talent, ready to step up to the plate and give your business the tender, loving care it needs to grow.'
The platform's done-for-you technology has handled literally millions of granular actions necessary to scale, profitable real estate investing. The tools, systems, and solutions are all right at your fingertips. 
An intuitive system of lead capture forms, calls to action, and an engaging UI made the visitor experience super fun.